Pastor Artur has been subjected to unprecedented attacks and infringements on his unalienable Constitutional and Charter of Rights and Freedoms as a result of the COVID-19 fraudulent Provincial Emergency Orders. Pastor Artur has been criminally charged with inciting mischief and eco-terrorism, and his sentencing date has changed to Monday, September 18th.
We ALL need to show up and fight for Pastor Artur because if he goes down, everyone that speaks against the totalitarian regime can be charged with inciting. Ultimately, if Pastor Artur is charged, Canada will cease to have FREEDOM of expression, FREEDOM of religion and FREEDOM of association.
Call to Action – Attend the Sentencing Hearing
Date: Monday, September 18th
Time: TBD
Location: Court of King's Bench, 320 4 St S, Lethbridge, AB
Withdraw Crown's Incarceration Sentencing of Pastor Artur Pawlowski. Sign this PETITION and share it widely.
Watch and share video
Visit Action4Canada for updates.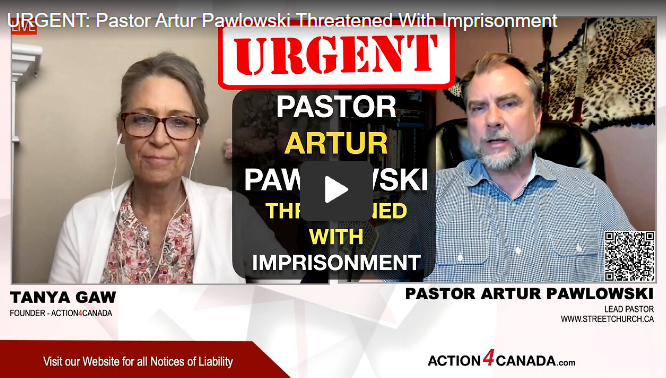 Learn more about Pastor Artur Pawlowski:
Street Church – https://www.streetchurch.ca/
Solidarity Movement Canada – https://solidaritymovementofcanada.com/